UCBL – University Claude Bernard Lyon, France

the world recognizable expert in fundamental research and education in the field of nano-physics, luminescence, spectroscopy, photoconductivity. UCBL has unique research equipment such as synchrotron generators, ultra- speed laser spectroscopes etc, and has free access to European facilities.
Laboratory of Physical-Chemistry of Luminescence Materials (LPCLM) has enhanced experience in innovation research and technology development applied in power engineering, public health, telecommunications and image visualization, etc.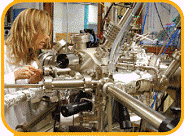 www.univ-lyon1.fr